A long-distance walk is as demanding as it is rewarding. As you train, you'll condition your body, fortify your mind … and develop a strong opinion on socks. The right kind of gear can help you avoid injury and stay as comfortable as possible — and help you reach the finish line.
---
The following is written with a long-distance charity event/assisted overnight walk in mind. That is, you don't have to carry all of your gear on the walk.
This list will be more relevant to you if:
Your walk is marathon to ultramarathon in distance (40km to 100km)
Your support crew will transport most of your gear or most of your gear stays at camp while you walk (including meals in both cases).
And/or you have access to food and water along the way.
But if you're training for a long-distance walk here or abroad, you'll find some solid advice that can help you shape your own gear list. You'll need to do more research to adjust for individual weather conditions, terrain and time away.
Equipment:
A first-aid kit. Accidents can happen. At a minimum, you should be prepared for abrasions, blisters, and sprains. An emergency blanket should also be part of your first-aid kit.
Pack. For an assisted walk for one to two days, a 20L–35L hiking pack is ideal. Allow enough space to carry a two-litre hydration bladder, snacks, warm layers, a rain jacket, a first-aid kit and any personal items. At a minimum it should fit you well and distribute weight evenly, but a pack that allows airflow between the pack and your body is a nice bonus. If you need something bigger, check out our advice on backpack size.
Light-weight dry bags. At least one dry bag is recommended to protect your spare clothing and electronics. For additional protection, consider a pack raincover.
Hydration bladder. A hydration bladder wins over a water bottle hands down. You can carry more water and have better ease of access. Depending where the water stops are (and your individual requirements), opt for a two to three litre bladder. Double check the event recommendations.
Head torch. For the overnight walkers, invest in a head torch with decent lumens. Besides lighting the way, a head torch will keep your hands free for more important things, like getting stuff out of your bag, or spotting spiders in the loo. Make sure you have some spare batteries too — it's pitch black away from civilisation.
Optional:
Walking poles. People of all ages and abilities swear by walking poles. They can help secure your footing on a rocky scramble, keep you balanced when you're tired, and most importantly, take some of the pressure from your hard-working legs. In short, a good set of walking poles can help keep you injury-free and help you last the distance.
If you're spending a long time on the trail with a lot of variation in terrain and incline, walking poles are a great idea. Similarly if you need a little extra support for your knees and/or ankles, give walking poles a try. Look for a lightweight adjustable set so they a) suit your height and b) fold away easily into your bag. If you've got sensitive hands or want to use these for the majority of the time, consider a soft grip handle or a pair of gloves to protect your mitts.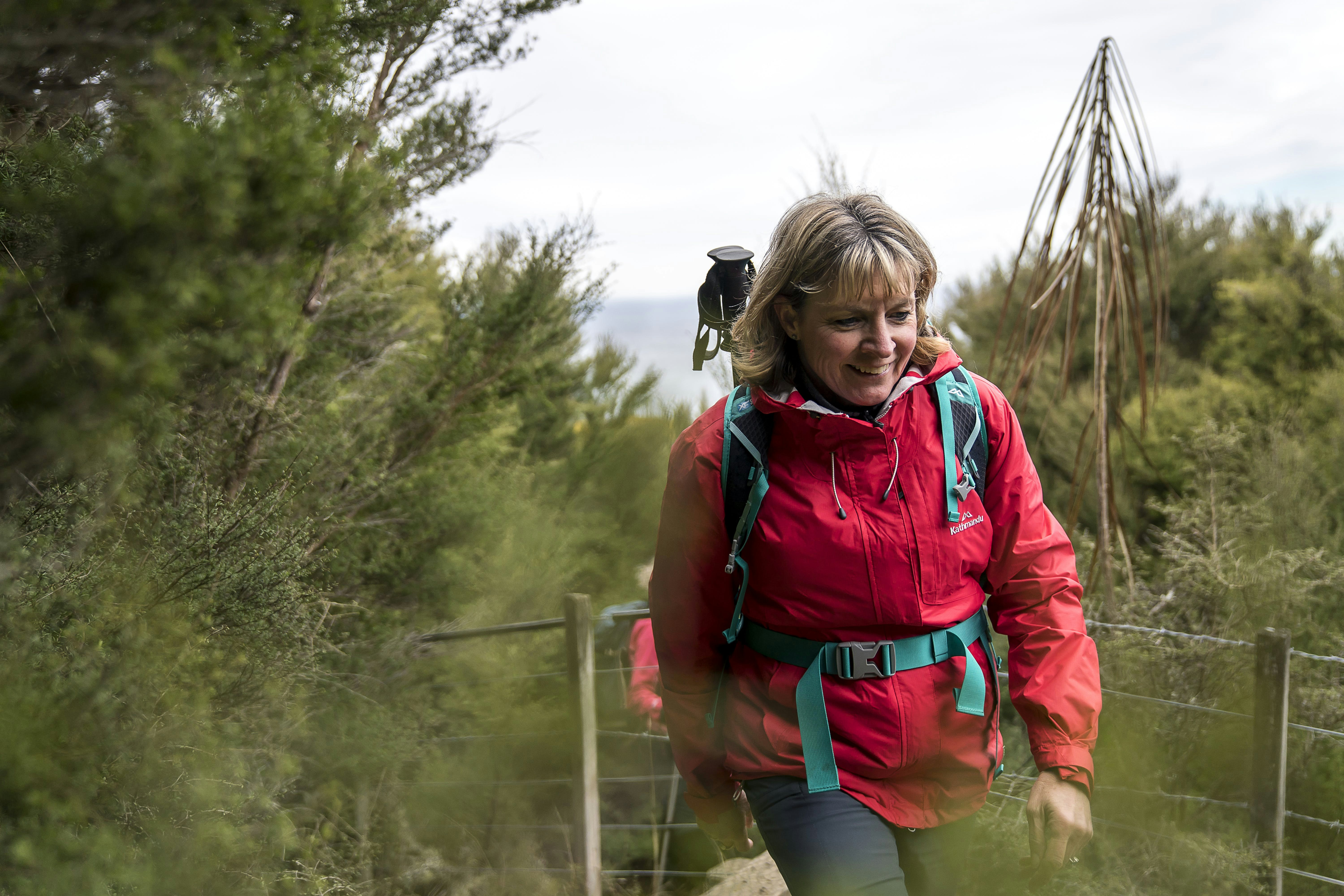 Clothing:
Broken-in shoes. The right shoe is a worn in shoe – whether they're trail runners or hiking boots is up to you. If you plan on running at any point, or prefer a lighter shoe, a lightweight trail running shoes will probably serve you well. But if you're spending a long time on your feet, or tackling a lot of rocky terrain, then a hiking boot is a better option.
Whatever you choose, your shoes should be the correct fit, take terrain and incline into consideration (do you have enough room at the front of your shoe for those downhills?) and be fit for purpose. This will minimise blisters: the last thing you want when there's 50km between you and the finish line.
Trustworthy socks. A misplaced seam is behind many a blister, so you should thoroughly test your socks and shoes in your training. If you have 'blister-prone' skin, merino socks offer natural temperature control and are an excellent option. Seamless socks or sock liners can offer additional comfort too. Find your formula, and stick with it.
A spare pair of trustworthy socks. Hot, damp feet is a ripe environment for …you guessed it, blisters. Once you've reached sweaty critical mass, swap your socks for a dry pair. You'll minimise your blister risk and it's a nice treat for your feet. Make sure you stay away from cotton socks with a long-distance walk for the reasons below.
Breathable, fast-drying shirts. Don't wear cotton. It absorbs sweat like a sponge and takes ages to dry. Your sweat will encourage the clothing to cling to your body and will keep you cool – not ideal if the conditions are already cold. Opt for something that wicks sweat away instead so you feel fresher for longer.
Long pants. I'd recommend long hiking pants or leggings/tights if you're out on the trail. They protect your skin from sharp branches, leeches, insects, and the occasional trip. If you're a shorts person, consider a pair of long gaiters.
Lightweight fleece. If it's cool or you're expecting the temperature to drop overnight, a warm layer is important. You'll want something lightweight and very breathable. My tip: find a fleece with a zip. If you warm up, you can instantly get some cool air without taking your pack off.
A hat. A no brainer. Keeps the sun out of your eyes and the sunburn off your face.
Rain jacket. Torrential rain can dampen your spirits. It makes you cold, increases the risk of chafe, and add extra weight to your clothes; all of which are going to make your challenge harder than necessary.
So should you pack one even if the forecast is clear? I'd err towards yes. This is further influenced by where you walk is, so if you're tramping in the unpredictable backcountry of New Zealand, a rain jacket is non-negotiable. Get something that's lightweight, breathable, and folds down easily.
Personal items:
Lip balm
Sunglasses
Toilet paper
Hand sanitiser or biodegradable soap
Snacks
Personal medications
Electrolytes.
Mobile phone for emergencies.
Sunscreen.
Map book. Depending on the nature of your event, you may be provided with a map book to help guide you. Keep it with you even if the trail is marked – it can help keep you on the right path.
Before you head off, remember to gear test everything under similar conditions to your actual event. That's everything from your shoes, socks, clothing and pack — to the food and drink that you eat. Those socks might be OK at 10km, but how will they hold up at 30km? Those walking poles weren't necessary on the flat footpath, but will they help you on those steep inclines on the trail?
With preparation and training, you'll find the perfect combination of gear that works for you.