What to pack for a road trip (with or without the kids)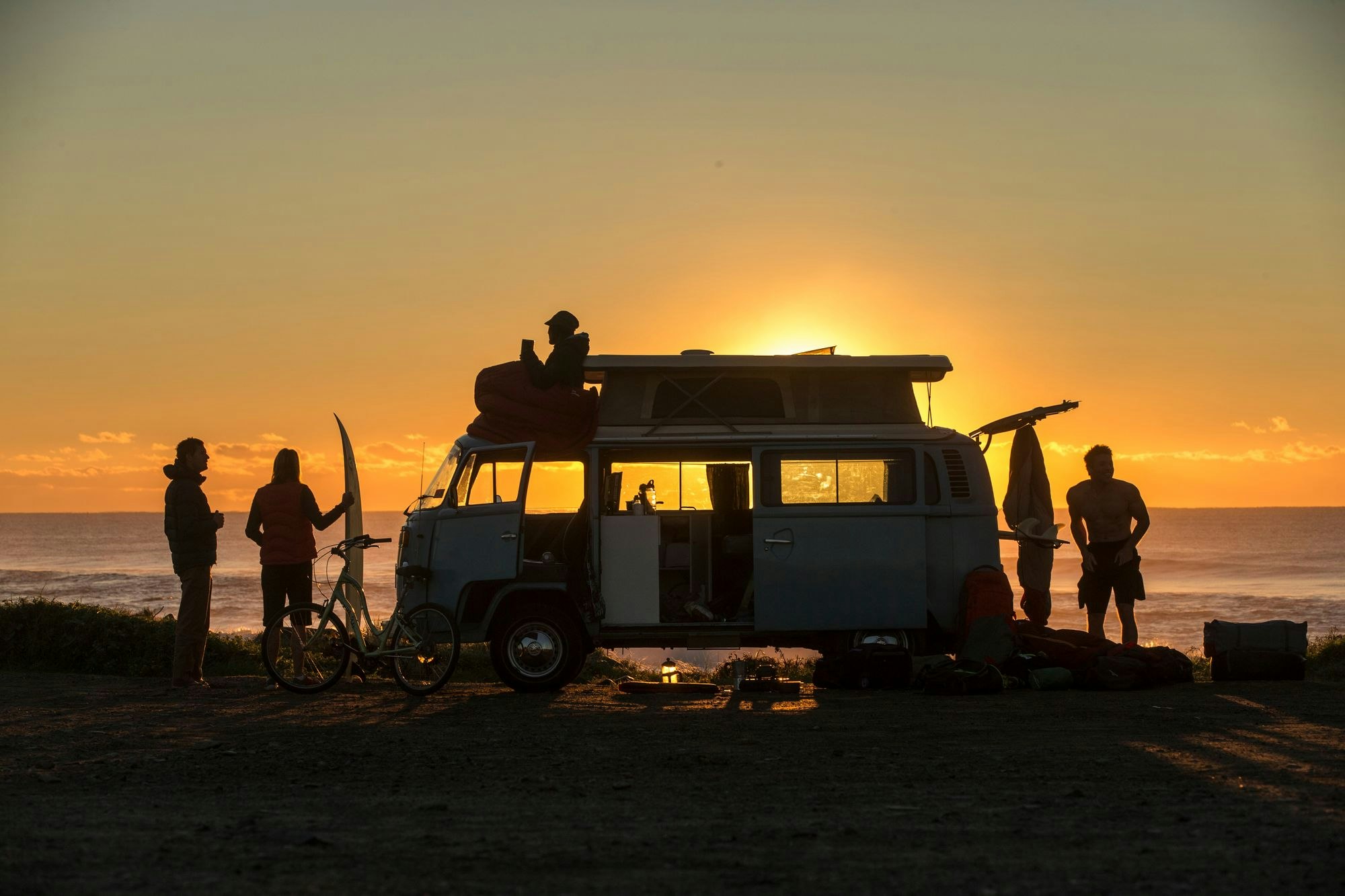 A road trip is one of the best ways to travel. Whether you like to wing it or follow a strict itinerary, you've got the freedom to explore and do what you please. And with some of the world's best national parks and natural wonders on our doorstep, who can resist?
---
And if it's a family vacation you want, a road trip will create those perfect outdoor memories. Kids love spotting wildlife, swimming in watering holes, and spending time with their family in a new and exciting place.
But before you get going, you'll need to be prepared. What's essential to pack, and what's nice-to-have? How do you minimize the amount of trash? And how do you keep everyone happy when you're confined in the car?
Here's what you need to know before you hit the road.
Essential items for a road trip
Clothing and Shoes
Clothing will always come down to where you're going and what you're doing. Ideally, your road trip wardrobe should embrace versatility. This way, you'll be prepared for most weather conditions and activities. And what you choose to wear will ultimately dictate the clothing choices you make for the kids too.
That said, here's what I usually pack for any road trip, come rain, hail or shine:
Zip-off fleece jacket. A fleece jacket is incredibly handy because you can wear them around town, around a campfire, or on the summit after a hike. Warm but breathable, they make a comfy addition to the kids' wardrobe and hold up to regular washing.
Comfy travel pants. Regardless if you're a passenger or the driver, you'll be grateful for a little more comfort on those long stretches of highway. Ditch the jeans (and their unforgiving seams) and choose pants specifically designed for travel. Sweatpants, joggers or a pair of leggings are all excellent choices.
Waterproof jacket. If you're passing through multiple states, it's highly likely you're going to experience a range of weather conditions – not to mention changing elevations. Besides keeping off the rain, you'll have another wind-resistant layer for those unexpected cool changes.
Merino tees. Merino wool ticks a lot of boxes. It's a natural temperature regulator so it's the perfect road trip material. The wool fibers will help you stay cool when it's warm, and warm when it's cool.
It's also naturally odor-resistant, so you can get a few days of wear out of each tee. Just make sure you let it dry it out overnight! Merino is also lightweight so it's great for hiking or general outdoor use. (Learn more about the benefits of merino.)
Merino socks. While we're talking about it, add some merino socks to your list. The material naturally wicks away sweat to keep your feet fresh and cool. You can wear them in the car or on the trail for a high-performance hiking sock.
Underwear. For obvious reasons. Don't leave home without em'!
Swimwear. Not driving by the coast? Come prepared for hot springs, hidden lakes, rivers or hidden swimming spots.
For cooler climates, you should include:
Merino thermals
Merino neck gaiter. Doubles as a headband or hair-tie.
Softshell pants
Fleece gloves or insulated mittens
Down jacket
Waterproof pants for hiking
Shoes:
Again, shoe choice is highly personal and dependent on how you like to travel. But keeping versatility front of mind, it's great to have:
1 pair hybrid shoes. Minimize your bulky shoe collection and look for something that is comfortable enough for every day, but still appropriate for light outdoor use. Brands like Merrell, Oboz, Saucony and Teva are a good place to start.
Otherwise, consider bringing your trail runners or a pair or urban shoes with additional functionality for the outdoors.
1 pair slip-on shoes like flip flops or waterproof sandals. Essential for those questionable camp showers, grabbing things out of the car, or just to let your feet breathe.
If you're planning on doing a bit more hiking (and why not?), include a pair of waterproof hiking boots that are appropriate for the terrain.
Gear
Duffel bag. Leave the hard, sturdy suitcases at home. A soft duffle or backpack is easier to squeeze into every corner of your trunk. They're also easier to cart in and out of hotel rooms and campsites.
Daypack. For hiking daytrips or a long day of sightseeing, use a comfortable daypack to carry your water and other essentials. If you're travelling with older children, make sure they've got their own.

Packing cells. Packing cells (or packing cubes) will help maximize the amount of space you have in your duffle while keeping everything organized. You can choose to pack items like-for-like (all your tees together) or for different activities (all your hiking gear together).
Reusable tote bag. Use it at the beach or on your day trips when you need to carry a little extra stuff. This lightweight tote folds down into almost nothing and can attach to your daypack. I also use mine on a snack run to save on paper/plastic.

Accessories:
Say goodbye to glare and invest in a pair of glasses with proper UV protection.
Water bottles. Bring one for each person in the car so they have their own supply handy.
Reusable cups. If you love a coffee in the morning, skip the ones in your hotel room (or at the drive-through) and use yours instead.
Reusable containers. Keep snacks fresh and organized in Tupperware containers.
Hanging toiletry bag. Especially useful on campsites or when space is lacking in your accommodation.
Cooler bag/Cooler to keep your perishable snacks and juice boxes fresh.
Entertainment for the kids. For those inevitable restless, fidgety hours. An iPad loaded with their favorite shows always goes down a treat, but if you're disconnecting on this road trip, bring along some toys, cards, or your best assortment of games.
For the car:
Hands-free phone mount.
Windshield cover to keep the car nice and cool.
Reusable garage disposal. Minimize your plastic bag use with a semi-permanent bin in the car. Ideally something you can seal to keep any odors at bay.
Hand sanitizer
Tissues
Toilet rolls. Particularly handy if you're travelling with kids and there's no gas station for 100 miles...
Car phone chargers
Portable chargers for when you're battling over the only car charger. Good idea to have in case of roadside emergencies too.
Cash, including coins.
For the kids, you might want to include bug bite soother (or anti-itch cream) and aloe vera, just in case.
Personal hygiene:
Toothbrush & toothpaste
Shampoo & conditioner
Moisturizer
Lip balm
Health & Safety:
Mobile phones
Travel and car insurance
Torch or lantern
Spare batteries
Roadside emergency kit including jump cables and a jerry can
First-aid kit
Paper map for when there's no service
Print-out of any important addresses for the reasons above
Sunscreen
Insect repellent
Personal medications
Satellite phone or signaller for when you explore isolated areas
Nice-to-haves
Microfiber towels are smaller and lighter than your regular towels. You'll save plenty of room, and they dry super quickly too.
Gaiters. If you plan on hiking every other day, gaiters are a good choice to keep out the rain and rocks.
Travel pillows. Keeping the kids comfortable goes a long way when you've got a long day of driving. Bring along some small ones to keep the backseat uncluttered.
LUXURY ROAD TRIP ITEMS:
Eye masks. For uninterrupted napping anytime during the day.
Backseat organizer. These nifty 'hold-alls' hang over the front seats and can stash drink bottles, snacks, tissues, books and toys. Some will even hold iPads. It'll help to keep things (mostly) organized and off the floor.
Coffee press. If instant coffee isn't your thing, a French press or AeroPress will get you through those early morning starts. And if you're camping every day or far away from shops, this might become part of your 'essential' packing list.
Headphones and/or portable speakers. If you've curated the perfect road trip playlist, appreciate it in all its glory. Bring a water/shock/dust proof portable speaker, and you've got some tunes at the campsite too.
If you're travelling with the kids (and iPads), you might be in for many hours of Peppa Pig on repeat. Save your sanity and bring some headphones for the kids! If there are a few kids to cater to, bring along an inexpensive headphone splitter.
My final bit of advice? Downsize where possible. Choose items that are reliable, but small and/or lightweight. You'll constantly be transporting gear in and out your vehicle and packing and repacking your bags. By keeping it as simple as you can (and using a few packing cubes) you'll save yourself a whole lot of stress.