What size backpack should I choose?
There are a number of factors when choosing a backpack. So let's answer the above question with…three more questions.
1. What activities are you going to do?
2. What weather conditions are you going to do them in?
3. How long are you going for?
Once you've figured out your specific needs, we can figure out the best size for you. Here's my rough guide to get you on your way.
---
Backpacks of 35L and less:
Backpacks up to 35L are ideal day packs for both hiking and travel.
Hike:
Opt towards a smaller hiking backpack for short day trips and/or lighter gear. Otherwise, consider one closer to the 35L limit if you need more room. That includes people who like to dabble in a picnic lunch, carry a bit of camera gear, or like to hike no matter the weather.
A pack with a bit more space means you can store additional clothing layers and include an emergency raincoat in case the weather turns. Never a bad idea.
Travel:
A small, zipped day pack is a must for travel. Besides keeping your valuables secure, you can bring everything you need for a day out — like extra layers and a water bottle.
A small backpack is also convenient carry-on luggage. The wheels and handles on a traditional carry-on suitcase can add additional weight and blow out the luggage dimensions set by your airline. A backpack will help save on weight, space, and is extra packable in the overhead lockers.
That said, don't get caught out. Make sure you check the required dimension of the airlines you fly with.
The 18L Gluon Beyond Pack is ideal for short trips or day hikes.
Backpacks between 35–50L
Backpacks between 35L–50L are ideal for overnight hikes, lightweight hikers and travellers.
Hike:
If you want to overnight hike (or a quick weekend adventure) you'll need a backpack big enough to see you through the night. Keep it simple with the necessities: enough clothes for the next day, any food and water, sleeping gear and your tent.
If you want to embrace the 'packing light' philosophy on multi-day hikes, this size will still work for you. You'll need specific kit to make this work properly — like a lightweight tent, lightweight sleeping mats, and packable, lightweight cooking gear — just to name a few.
But don't be light only for the sake of it. If the conditions are cool, and/or you need gear that will ultimately take up more volume, consider scaling up. I'm a big fan of packing light, but it won't outweigh the need for comfort, warmth, and safety.
Similarly, the longer you're away, the more volume you'll need, especially when it comes to food. Food and water can take up a significant amount of your pack if you're hiking for more than a few days. You'll need enough to adequately fuel your body each day, plus at least a day extra in case of emergency.
Arguably, this size backpack could be appropriate for a five-day trip if there are at least two of you rocking a 50L pack each with all the necessary gear and have rationed enough food and water for the journey. If you're not that confident you do, then it's straight to 50L and above for you.
The Voltai 40L pack can provide enough space for multi-day hikes.
Travel:
Again, this is going to depend heavily on the actual gear going in your pack.
This size can be enough for minimalist packers. A smaller bag means you'll be forced to pack less and follow the philosophy of packing what you actually need – not a bad habit to get into.
But if you're going to snow season in Japan for two weeks, won't have time to wash, and want to pack your big fat ski jacket, you may have to opt for a bigger pack. But if you're about to spend a week in Bali with little more than a cocktail and a sarong, then this will suit you just fine.
Backpacks of 50L and up
Backpacks bigger than 50L are great for longer multi day hikes and long-term travel, or a combination of the two.
Hike:
If you want to embark on a multi-day journey where you'll be carrying kit like shelter, sleeping gear, clothing for different conditions and all your food, a 50L + bag is probably the best backpack for you.
You might be tempted to get rid of a few items that are hogging all the volume — but don't take too much out on your sleeping gear. A good night's rest is essential, especially when you're putting away serious kilometres every day. At a minimum you should have a warm enough sleeping bag, a sleeping mattress, and some garments to whip up a pillow (fleece, down jacket, anything soft really).
Instead, cut out unnecessary clothing, look for packable, lightweight gear, and choose an appropriately sized backpack that can accommodate all the hiking necessities out on the trail.
Travel:
A 50L+ backpack is a great friend to those backpacking around Europe for a few months or through countries with rapidly changing weather conditions. These bags are spacious and can accommodate a number of outfit changes before you ever have to visit a laundromat.
They're also ideal for a combination of hike and travel, as long as you're following the philosophy above. Think the Camino de Santiago, the Pacific Crest Trail or the Great Ocean Walk.
Note: as a rule of thumb, don't carry more than you really have to — less is always more (or as Miss Piggy used to say, "Never eat more than you can lift"). Remember that comfort is key. The best choice you can make is a backpack that's good for your back. The fit of the pack, should outweigh the size of pack.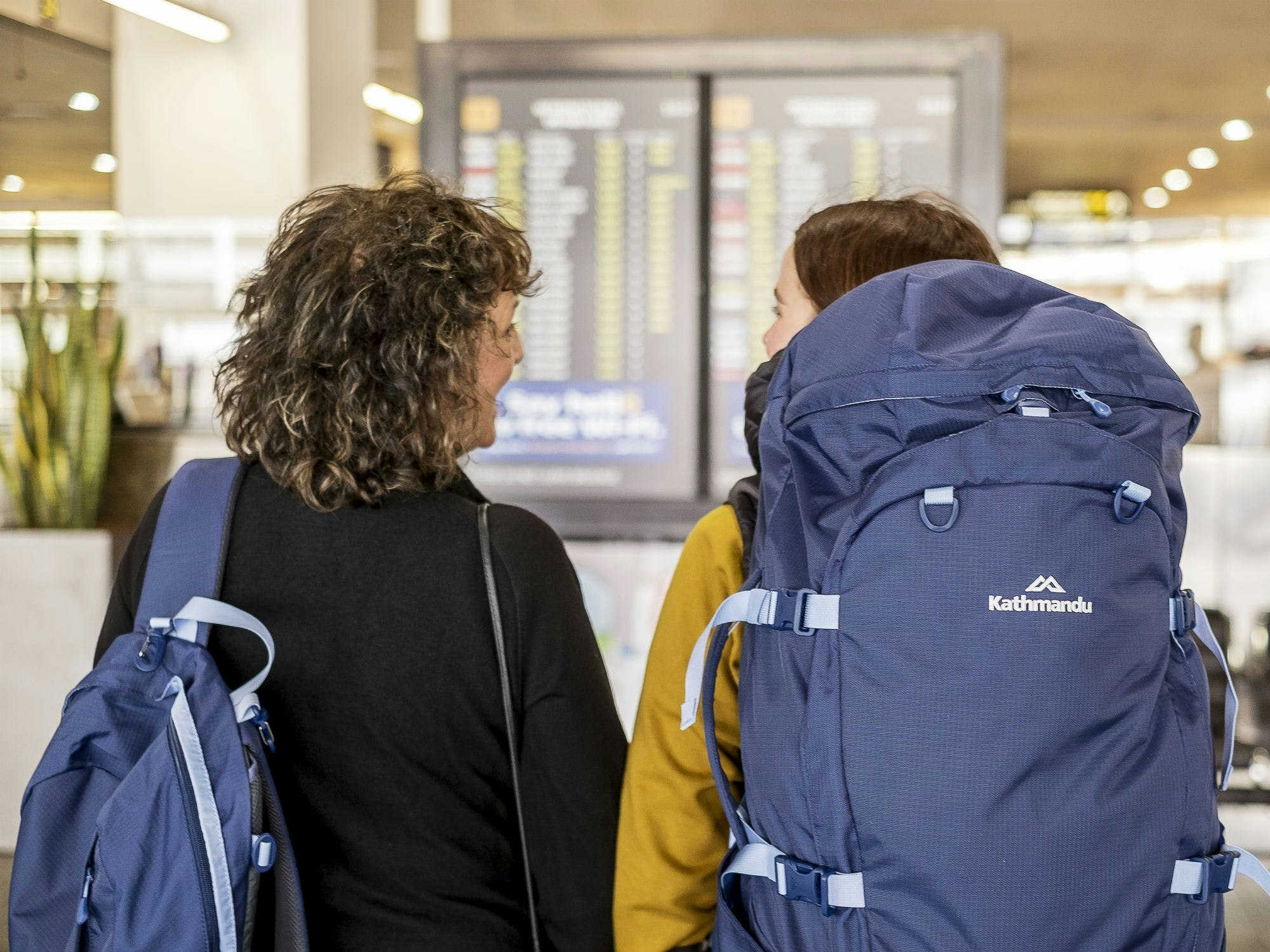 Choosing the right size backpack is highly personal. So before you commit, consider the activities, the weather conditions and duration of your trip — don't skimp out on the necessities, and buy lightweight, packable gear to make your journey even better.
Fitting a backpack
Before heading off on your hike, get your gear ready and test out how you will fit your backpack to your body shape.
Steps for fitting a backpack:
1. Load up your backpack with the items you would have on a hike or trip. There is an art to packing your backpack correctly, which comes down to commonsense. You want to balance comfort when walking with convenience (being able to get to your lunch).
Convenience: pack your backpack with your tent and other items you won't use during the day at the bottom of your bag. Food and cooking tools can go higher up. Convenience solved.
Comfort: keep items in your bag from affecting your centre of balance. Keep heavy items low and close to your back, so that they don't pull you sideways, backward or even too far forward (if you load heavy items up top, this will happen).
Now you know what your backpack will feel like on the trail, you can start to adjust the features of your bag to suit your body shape.
2. Start with the waist belt of your backpack. Adjust it so that the padding of the waist belt cushions the top of your hips. You don't want all the weight of the bag solely on your hips, however, as this will create pain and chafing, but the waist is vital for sharing the load. Adjust the waist belt so that it hugs you but doesn't strangle your hips, while sitting comfortably over the tops of your hips.
3. Move on to the shoulder straps. Adjust these so that they meet just below the top of your shoulders. They should be firm but not too tight.
4. Adjust your load-lifter straps. These are the straps that adjust the top of the bag with the top of your shoulder straps. Adjust these so that they lie at a 45-degree angle up to where they meet with the bag.
5. Adjust the sternum straps. These ease the pressure on your shoulders by pulling the shoulder straps together slightly. They shouldn't be too tight, just enough to take some of the pressure off.