There's a reason why Tasmania is one of the most visited destinations in Australia. If you haven't yet been lured to the Apple Isle, you ought to plan your first trip!
---
In 2015, Tasmania was named by Lonely Planet as one of the world's top 10 regions to visit, and its popularity continues to grow. Tassie offers a unique combination of landscape, art and culture, with something to fulfil every taste. We're so excited about Tasmania, that we asked our local team, led by resident expert Mark Acheson, to give us their top 10 must-do's when you're in Tassie. This is what they had to say.
Three Capes Track
A decade in the making, The Three Capes Track is Tasmania's most talked about new walking experience. The 4 day, 46km trek has rekindled the local and international love affair with the stunning Tasmania Peninsula.
The Three Capes adventure starts from the world heritage-listed Port Arthur historic site, where a purpose-built boat transports patrons to the start of the track. Sublime, edge-of-the-earth cliff views greet you at The Blade, Cape Hauy and Cape Raoul, punctuated by the remarkably picturesque Cape Pillar. This is a once-in-a-lifetime walking experience, ideal for experienced walkers (you'll be expected to keep moving for around 6 hours per day).
We recommend you visit Three Capes sooner rather than later, as the waiting list for this experience is only going to grow!
Bruny Island
Craving something delicious? Bruny Island is a gourmet haven, perfect for lovers of food, wine and whiskey. If food isn't your thing, the breathtaking coastal views will more than make up for it. Pennicott Wilderness Journeys will take you on a one-of-a-kind cruise around the island, traversing through sea caves and getting you close up to the local marine life.
Truganini Lookout is a local hotspot, known for its 360° panoramic views of the island's coastline. Situated above the area where the island joins the mainland, known as 'The Neck, the lookout is a must-see for tourists and locals alike. After a hard day at sea, relax with a glass of red and enjoy the island's famed seafood; we recommend popping into the farm to table favourite, 'Get Shucked' Oyster Bar. Don't leave without trying the Oyster Paté.
Cradle Mountain & The Overland Track
A trip to Tasmania without checking out Cradle Mountain is akin to visiting Disneyland and not seeing Mickey Mouse! Cradle Mountain is arguably the crown jewel of the southern state. Last year, it was rated the 9th most iconic Australian natural image on Instagram.
The Overland Track is one of Australia's most famous walks. It's a highlight of the Cradle Mountain experience, and should be on every hiker's bucket list. The 6 day, 65km trek is open year round, though only the brave (or in our case, idiotic!) should attempt it in winter! In our effort to epitomise Kathmandu's winter motto of #embracethecold, we took on the elements, with some pretty frigid results.
Wineglass Bay/Freycinet National Park
Wineglass Bay displays the type of natural beauty that has to be seen to be believed. Words simply don't do it justice. While the English language may be ill-equipped to capture the sublime qualities of Wineglass Bay and the surrounding Freycinet National Park on Tasmania's East Coast, you'll be utterly captivated by it.
Among the thousands of kilometres of beautiful beaches across Australia, Wineglass Bay stands alone, thanks to its sapphire bright waters and sugar white sand. Admire its beauty from views above, or feel the sand between your toes as you trek to the adjoining Hazards Bay.
Dark Mofo (Museum of Old and New Art)
Tasmania is bloody cold. While our state is known for its food and wine and beaches and forestry, it's the freezing temperatures that continuously catch visitors off guard (pack a jacket, people!)
However, each June, the Museum of Old and New Art (MONA) tips the idea of cosying up in front of the fire on its head, with an annual event celebrating the Apple Isle's creative food, film, art and music scenes. MONA's mid-winter festival known as Dark Mofo, greets an estimated 130,000 visitors each year. The brainchild of this unusually left field museum, Dark Mofo has become one of Tassie's most favoured attractions for locals and visitors.
Lose yourself to the live music, enjoy installations by world famous artists at Dark Park or sample the state's finest food and drink at the Winter Feast.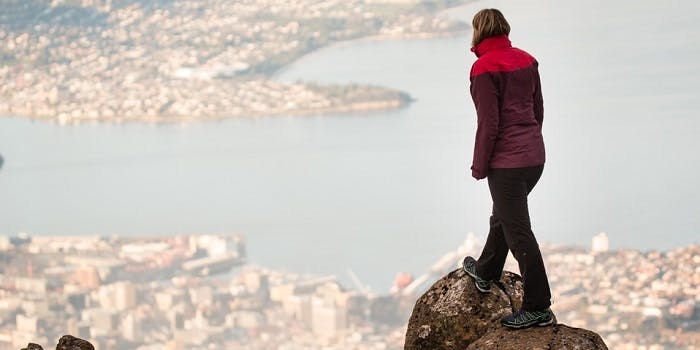 Mount Wellington
The centrepiece of Hobart, Mt. Wellington is located more than 1200 metres above sea level. It's pretty cold here, but don't let it put you off! The mountain boasts a breathtaking panorama of Tasmania's capital and the surrounding areas.
With 360 degree views of the Tasman Sea and the South West National Park, adventure enthusiasts will discover a variety of bushwalking tracks and outdoor activities to choose from, including mountain-bike riding, rock-climbing and horse-riding. A winter's day on the mountain can be more than eight degrees colder than in Hobart, and with the added the wind chill factor, it's essential to rug up!
Bay of Fires
For those who haven't had enough of the beaten tracks (your stamina is impressive) the breathtaking Bay of Fires will deliver.
Home to an eponymously named award-winning track, The Bay of Fires is a contrast of extreme whites, blues and reds, making it a must see destination according to Lonely Planet (and us locals). Situated on Tasmania's East Coast, the bay stretches more than 50km from Eddystone Point in the north to Binalong Bay in the south.
Campers will be overwhelmed with choices when it comes to choosing a place to pitch – just ensure your tent is wind resistant! If you've had enough of walking, a day trip to Bay of Fires will be almost as memorable.
Salamanca Markets
Time for a little retail therapy! The Salamanca Markets are Tasmania's most visited attraction for a reason.
Local artisans produce handwoven textiles, ceramicists sell beautiful porcelain and, just in case you forgot that Taswegians love to eat, the variety of food will surely impress. With colourful, artful, and beautiful treasures abound; Salamanca Markets is the perfect place to pick up a gift for a friend (or yourself).
Don't forget to pop into our store and say hi while you're here!