Why you should take a train across America
Slow travel isn't anything new, but with global air traffic estimated to have ballooned from 1.9 billion passengers in 2004 to 4.3 billion in 2018, the choice of rail travel is increasingly seen as a more sustainable option for the planet and a way to get from A to B that is good for your mental health. Susie Armitage, a U.S-based writer, editor and audio producer, recently hopped aboard a train to spend a few days quietly crossing North America.
---
I wouldn't call myself a morning person, but recently this winter I was up at dawn, watching the sun rise over the vast expanse of the Columbia River Gorge, a gaping 85-mile-long canyon that divides Oregon and Washington. Nestled in my seat on an ambling Amtrak train, I sipped my coffee and peered silently through the window. In front of me, a golden stain of light began to seep into the inky clouds before illuminating the brooding waters of the river below. My journey by train across America, starting from New York and ending in Portland, had begun three days earlier. After more than 3,000 miles of reading, people-watching and conversations with friendly strangers, I had nearly reached my destination.
By that point, I was overdue for a shower and more than ready to sleep in a real bed again. But when people ask exactly what possessed me to travel across America by train, I tell them about that sunrise. A large part of rail travel's charm is the way the landscape begs for your attention, offering an ever-changing light and a sense of scale most of us don't feel at home.
People who balk at the idea have a point: crossing the United States by train is a lot slower than flying or driving. It can cost just as much as a plane ticket if not more, and the price difference is wild if you spring for a sleeper. (In contrast, on some shorter routes, taking the train can save you money.) Hours-long delays are not uncommon, due partly to the fact that Amtrak must yield to freight trains along most of its routes. Still, after three cross-country train journeys and one round trip between California and Oregon, I'd do it again.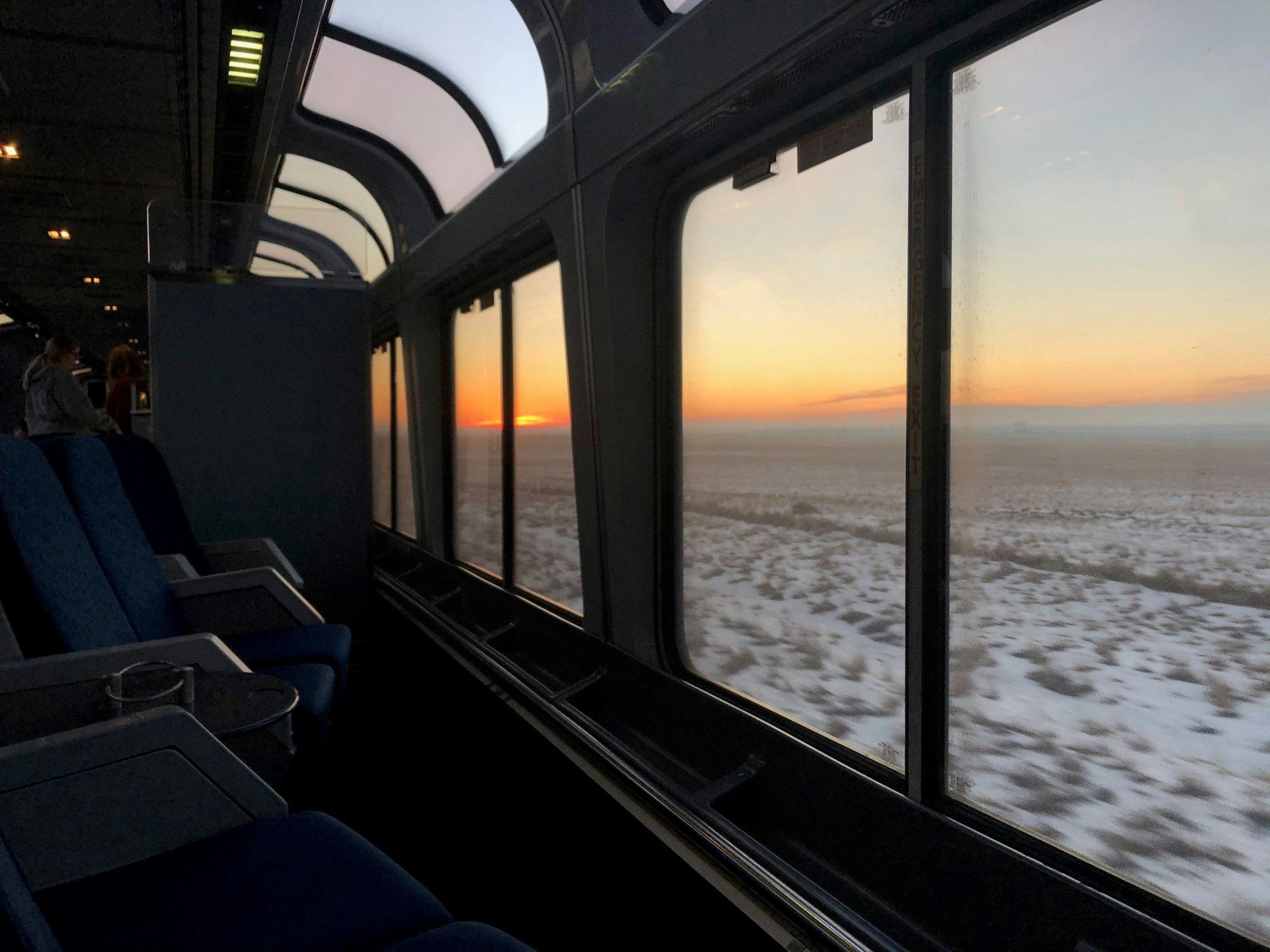 Taking it slow, taking it sustainable
Taking the train is a more sustainable option than driving or flying: according to the U.S. Department of Energy, Amtrak is 47 percent greener than going by car and 33 percent more than a domestic flight (as measured by BTU/passenger mile). But beyond the environmental benefits, for me, it boils down to this: long-distance rail travel combines the spirit of adventure with an excuse to be incredibly lazy for days on end. As long as you're not in a hurry, it can be quite relaxing to spend a day or three devouring a good book, listening to your favorite music, journaling or just watching the landscape roll by. Going the slow way can redefine your entire approach to travel; the journey ceases to be a means to an end or another item to be ticked off your bucket list and becomes an experience worth savoring in and of itself.
As my new friend Pat, a 29-year-old farmer in Virginia who was heading home to visit his family in Wisconsin over Christmas, put it to me one morning, the train is like a coffee shop on wheels, where you're welcome to hang out and take in the view. Later that day, as the sun set over Milwaukee, we saw the sky blush ruby red while Pat described his passion for growing and fermenting his own food and trying to live as sustainably as possible. The following week, heading back up to Oregon from the San Francisco Bay Area, I watched the morning light stretch across California's far northern Siskiyou County. Hours later, I still remained glued to the window, taking in the lush forests as we chugged through the Cascades, totally surrounded by trees.
In addition to spectacular scenery, long-distance train travel has given me some delightful moments with people I'd never have met otherwise.
On my way from Chicago to San Francisco a few years ago, early in the morning on Christmas Eve, a woman in a Santa hat and a necklace of Christmas lights handed out candy canes in the lounge. Her name was Sheryl, she was from East Peoria, Illinois, and she was going to surprise her two grandsons in Reno.
Heading back east after the holidays, I struck up a conversation with a white-bearded Amish man. When I said I lived in New York, he told me he'd been there once, and asked if I felt safe in the city as a single woman (I assured him I did.) He said his family had rented bikes during their stay in San Francisco, and I smiled at the image of them pedaling up and down the city's famously steep, squiggly Lombard Street.
Taking a train across America provides a chance to slow down and make less of an environmental impact when you travel. If you're ready for an Amtrak adventure of your own, here are a few tips based on my experience.
Should you get a sleeper?
I've always traveled alone and in coach. Annoyingly, you can't book an individual bunk in Amtrak's sleeping cars the way you can in many other countries. If you're going solo, you'll still be charged for the entire room, which can hold two to six people depending on the size. This model makes sleepers particularly pricey for individuals — for example, if I booked a one-way ticket today from Chicago to Emeryville, CA on the iconic California Zephyr train, for a trip seven months from now, it would cost me $141 in coach and $1012 in a Superliner Roomette, the most basic sleeper option. In a couple or a group, however, the cost per person goes down, and the sleeper fare includes meals.
Fortunately, the coach seats are much bigger and recline further than a typical airline chair. There's no middle seat and you're free to walk around rather than staying confined to your ticketed spot. I've never slept great in coach, but in my opinion, a less-than-restful night is worth an epic sunrise in the morning. Bring an eye mask, blanket, and pillow, as these are not provided and it can get chilly.
Consider a rail pass
The USA Rail Pass allows you to take several trains in a 15, 30 or 45-day period for a flat rate. Like many things about Amtrak, it's a bit wonky — you can buy the pass online, but you have to call the reservation line to book your actual tickets and pick them up in person at a station before you depart. But if you want to cover a lot of ground, it can save you money. (A caveat: the first time I did this everything went smoothly, but the second time, I wound up spending two hours at Penn Station trying to collect my pre-reserved tickets due to an agent error. It was a major headache, but I ultimately got my train in the morning as planned.)
Book early. Amtrak fares increase as you get closer to your travel date and the popular routes can sell out.
Check schedules in advance
I was disappointed to find out my train from New York to Chicago wasn't a double-decker with a Sightseer Lounge like the California Zephyr. Another bummer: it was dark when we went through scenic parts of West Virginia, and on the Empire Builder going westbound, we also passed Montana's Glacier National Park at night. If you've got your heart set on seeing something specific, consult the timetable to make sure you'll pass it in daylight.
Bring your own food in coach
With a sleeper ticket, all your meals in the dining car are included. Coach passengers can pay out of pocket to eat there, but the food isn't that impressive and the cost adds up quickly. (I do recommend trying it once just for the experience; you'll be seated with strangers unless you're traveling in a group of four, so be ready to make friends.) There's also a cheaper snack bar with coffee, beer, hot dogs and other microwaved fare, but I prefer to pack my own food. You'll tire of cup noodles quickly on a two-day trip. If you're setting off from Chicago, hit up H-Mart, a Korean supermarket a short walk from the station that carries a good selection of deli items, fresh fruit and snacks.
Embrace uncertainty
I love going by rail, but Amtrak can be a let-down if you're expecting modern, high-speed trains on par with the ones you may have ridden elsewhere. Not all routes have WiFi (you can check which routes have wifi here) and cellular service can be spotty when going through the mountains and rural areas. Two of my trains were over an hour late; I've also had trips that arrived right on schedule, but even longer delays are common. So don't book any flights for the day you get in, and try to think of it this way: the journey is well worth it, even if you don't arrive at your destination on time.
---
Browse packs for your next journey...
---