Having been on the road for a decade, searching for the planet's best cultures, adventures and landscapes, trying to narrow down our absolute best experiences is a tough challenge.
---
From driving across Canada living in a van to scuba diving Mexico's underwater caves, each and every escapade is a memory that we'll never forget.
Still, there are some that have truly changed our perspective on the world and its people, and these are our top five experiences from our travels around the world.
Travelling To Antarctica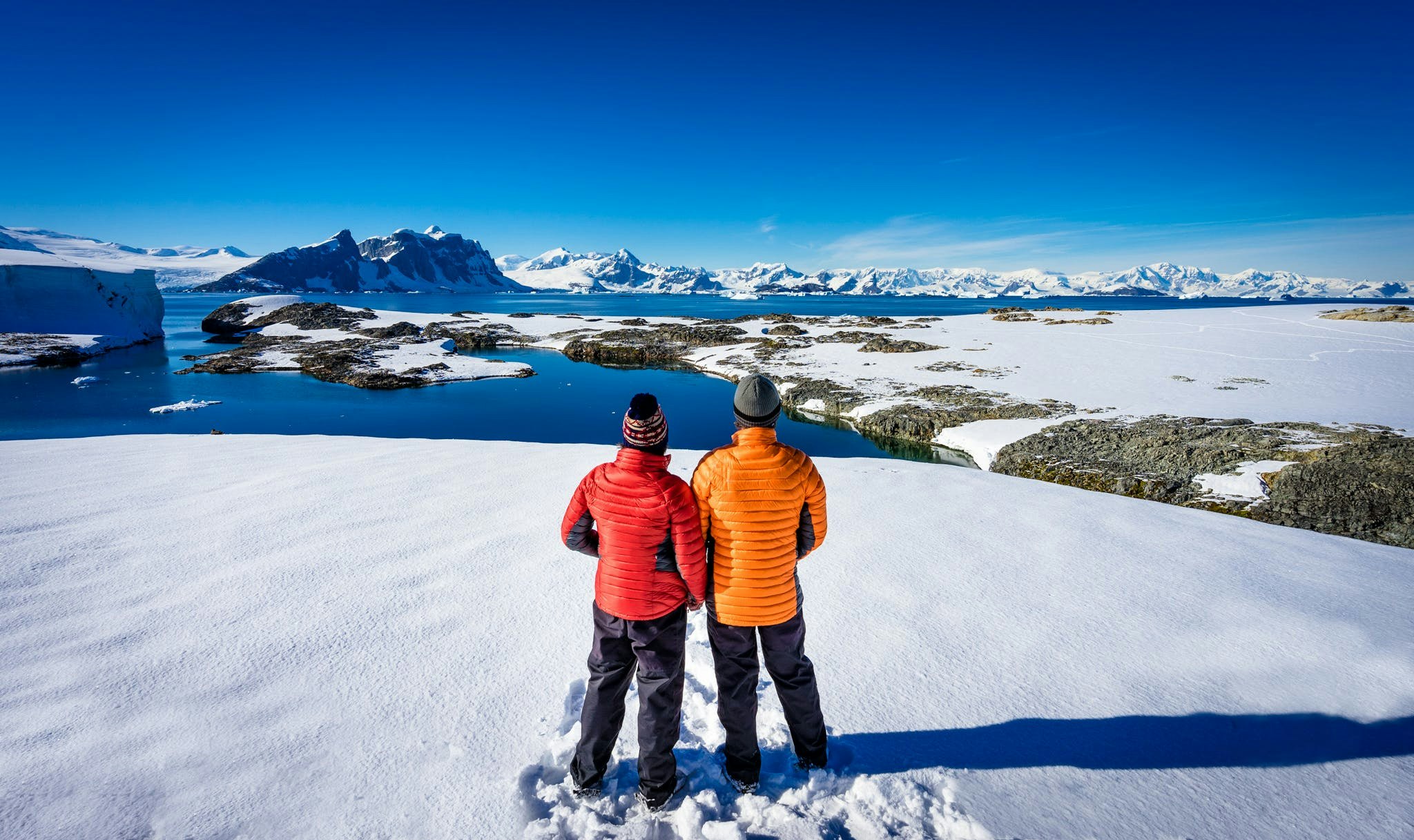 In 2017 we travelled to the very tip of South America and boarded a Russian research vessel operated by the company One Ocean Expeditions and embarked on an 11-day journey to the white continent, Antarctica.
Crossing the Drake Passage, known as the world's roughest sea, was both exciting and eye-opening, and after two days charging through stormy conditions we finally arrived in the Antarctic Peninsula.
It's hard to put into words the emotions felt when the sun rises and your given your first glimpse at the snowy peaks of the most remote landmass on earth. The scenery is far more dramatic than anything we could have imagined. Soaring black cliffs drop into impossibly turquoise water. Ancient glaciers rise hundreds of metres into the sky. Enormous icebergs float majestically by like silent ships set adrift.
Then there is the wildlife. Countless colonies of penguins overrun entire islands, mingling with a variety of seals dozing on rocks. The whale watching is unlike anywhere else, and it's not uncommon to see dozens of humpbacks, minkes and orcas breaching, diving and spy hopping in one small channel. For birdwatchers it's a place that continually defies belief.
Of every destination, every landscape and every experience we have ever encountered during our travels, nowhere has ever been as beautiful and captivating as Antarctica.
Trekking In Patagonia
The name 'Patagonia' conjures up images of true, rugged adventure, and visiting the southern stretch of the Andean Mountains does not disappoint.
Patagonia is as diverse as one could imagine, with jagged peaks violently erupting on the edge of sprawling deserts, glaciers carving their way through valleys and fragile forests bordering labyrinth-like fjords.
For those that like to spend time in nature, Patagonia is a paradise. The trekking options are as good as you will find anywhere, with every option and style available to active travellers. Whether you're interested in a leisurely hike along paved paths or would prefer to head deep into the mountains for a week (or more), you will find your dreams coming to life in Patagonia.
For us the most beautiful part of our two months spent travelling in Patagonia was trekking the famous O Circuit in Torres del Paine National Park. This 135km hiking trail circles the Paine Massif, going past glistening lakes and tremendous glaciers along the way. It's possible to stay in cabins and eat at refugios on the trek, but we opted to carry all our own gear.
For eight days we trudged on, with our camping equipment, food and clothing all on our backs. The weather in Patagonia is notoriously bad, so you need to be prepared for all conditions, even in summer. Yet while the weather can be unpredictable, the scenery is some of the best on the planet, and it was a bucket list item we had been waiting for years to finally tick off.
Visiting The Tsaatan Reindeer Herders In Mongolia
A long time ago we came across a set of images of nomadic people living in the Siberian taiga, co-existing with their herd of reindeer. The iconic photos had a profound effect on us, and we promised ourselves that one day we would try to visit them.
During our travels in Mongolia we discovered that the people, known as the Tsaatans, actually lived in a very remote section of the northern part of the country, and we made our way there to fulfil our dreams.
Renting horses from a local family near the beautiful Khovsgol Lake we embarked on a two-day trek into isolated steppe and forest to visit their village. Being nomadic they move about regularly, settling in places with high amounts of lichen so their reindeer can feed. The ride was stunning, and late on the second day we arrived.
Around 500 Tsaatan people live in the taiga, separated into two villages with their hundreds of reindeer. We visited one family and organised to stay with them for three nights, living in one of their ortz, which is similar to a Native American tepee. The family welcomed us with open arms, and using hand signals and a Russian phrasebook, we managed to learn a lot about their culture.
Over the next few days we helped the family tend to their reindeer, cook food, collect firewood, tried bare-hand fishing and hiked around the area. In the evenings we would sit with the family and drink tea, passing the phrasebook back and forth to discover more about each other.
Leaving on the last day was quite sad, and we had formed a tight bond with Magsar, Amgaa and their children. While having the opportunity to milk, care for, and even ride, their reindeer was a real highlight, it was discovering more about their fascinating culture and lives that really made us fall in love with our time with the Tsaatan family.
Exploring The World's Biggest Cave In Vietnam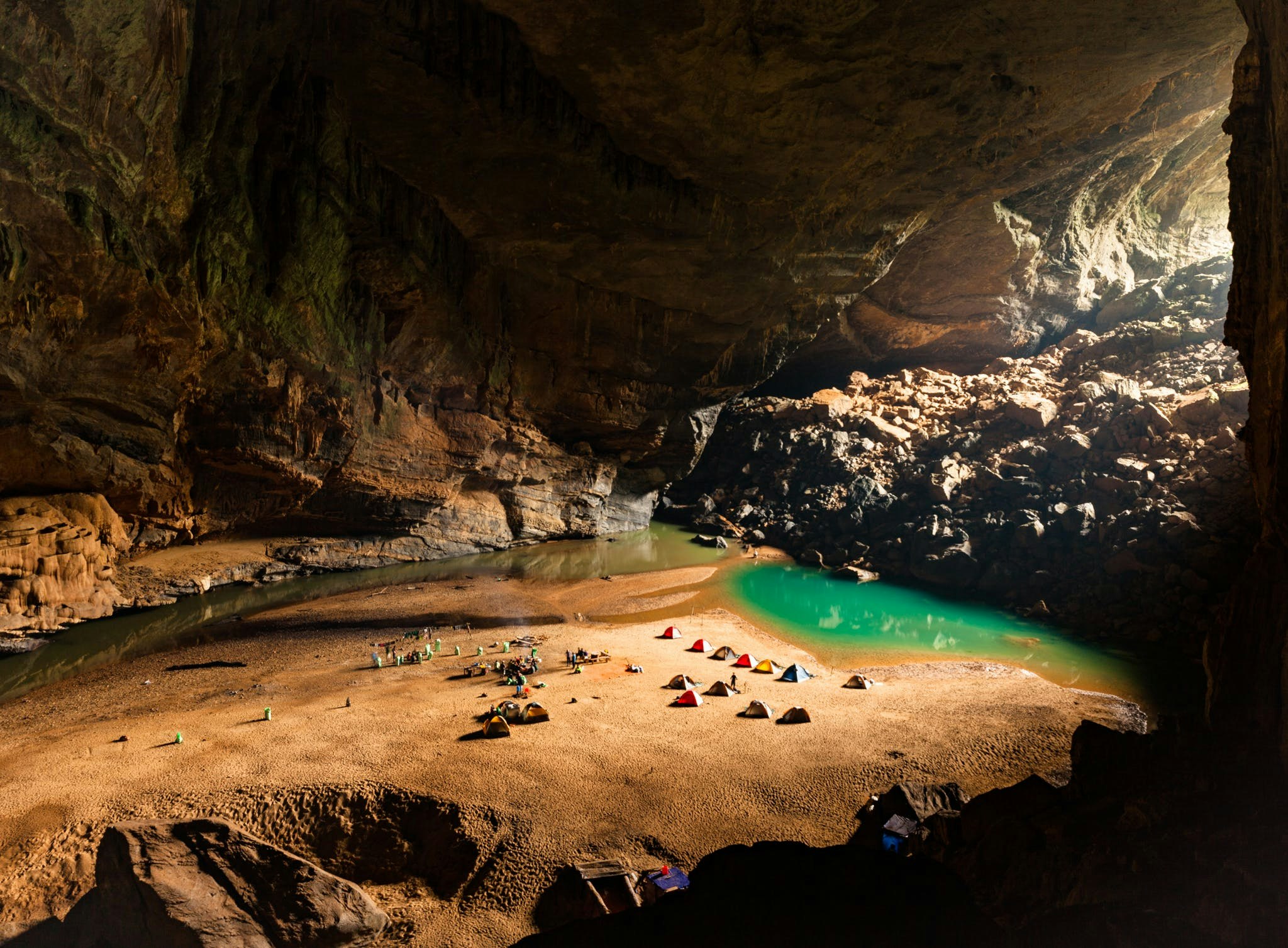 More people have stood on the summit of Everest than have seen the inside of Hang Son Doong, the largest cave in the world, and that alone made us desperate to trek to the heart of this natural wonder in Central Vietnam.
First discovered by a local man named Ho Khanh in 1990, then subsequently lost, Hang Son Doong was only explored in 2009 when Ho Khanh and experts from the British Cave Research Association mapped it out and determined it to be the largest ever found.
Commercial tours started running in 2013 with a strict limit of 500 visitors a year controlled by the government, and soon there was a two-year waiting list to join the five-day expedition. For a while we settled in the town of Phong Nha, the closest village to the cave, and when some last-minute spots came up we jumped at the opportunity to go.
Visiting Hang Son Doong requires one-and-a-half days of hiking through dense jungle, with a night spent camping in Hang En, the third largest cave in the world. Once you reach Hang Son Doong you rappel into the entrance, and trek for two more days inside, sleeping in tents at the base of enormous collapsed ceilings.
The beauty of the cave is otherworldly, and the size of the underground caverns really need to be seen to be believed. It was so impressive that it was in this cave, next to a glorious sunbeam breaking in through a hole to the outside world, that we got engaged.
Following The Silk Road Through Central Asia
Spanning two continents and dissecting fascinating cultures, the Silk Road was one of the most important trading routes in modern history.
For centuries caravans of camels would transport expensive and exotic goods from Asia to Europe, resulting in strategically important cities growing in the middle of barren deserts. What started as mud-brick caravanserais, designed as simple motels to allow the traders to rest during their travels, developed into sprawling metropolises with architecture that still blows minds to this day.
Towering mosques, madrasahs and mausoleums were constructed in places like Samarkand and Tehran, decorated with exquisite blue tile mosaics. Tamerlane the conqueror built his cities to such an unbelievable beauty that even when Ghengis Khan charged through he couldn't bring himself to destroy them.
Today these icons of the Silk Road still remain, and travelling along this ancient trading route is one of the most impressive journeys one can make. Between the glorious buildings are a people still practicing their old traditions like metalwork and silk weaving, and the food is among the best you will try anywhere in the world.
---
Alesha and Jarryd are the award winning writers and photographers behind the travel blog Nomadasaurus and have been travelling the world together since 2008.
---